Join us at the premier global nuclear tradeshow in China – NIC 2016!
Long History:
China International Nuclear Industry Exhibition (abbreviated to NIC) started in 1989 with the direct support of the Chinese government and is the first nuclear exhibition of its kind in China. With 26 years' efforts, NIC has become one of the world's largest and the most important nuclear exhibitions in China.
High Ranking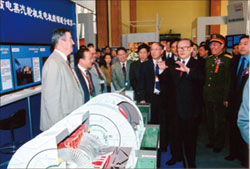 Chinese President Jiang Zemin
attended NIC show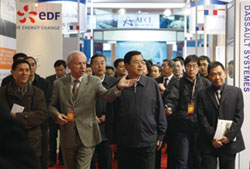 NPC Chairman Zhang Dejiang
showed up in NIC exhibition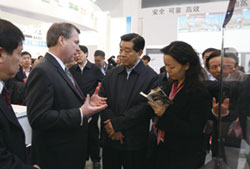 CPPCC Chairman Jia Qinglin
talked with NIC exhibitors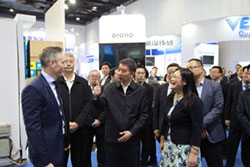 Vice Premier Ma Kai visited NIC show
The NIC was attended by many top ranking Chinese officials, such as Mr. Jiang Zemin (the former Chinese President), Mr. Jia Qinglin (the former Chairman of the National Committee of the Chinese People's Political Consultative Conference), Mr. Zeng Peiyan (the former Vice Premier) and more than 200 ministers and vice ministers. Mr. Zhang Dejiang (Chairman of the Standing Committee of the National People's Congress) visited the NIC in 2008 and 2010 and Mr. Ma Kai (Vice Premier) came to the event in 2014. This shows the great importance of NIC in the development of nuclear industry in China and the world.
Great Influence
In the past NIC events, the world's energy giants have put NIC as their tradeshow platform, such as Westinghouse, AREVA, Toshiba, Hitachi, GE, EDF, CEA, Alstom, Candu Energy, Rosatom, Accenture, URENCO, GIIN. Some also set up dedicated pavilions to show their capabilities, like French Pavilion, Canada Pavilion, Russia Pavilion, Spanish Pavilion, Korea Pavilion, and Finnish Pavilion. The Chinese nuclear flagship companies such as CNNC, SNPTC, CGNPC, CPI, CDT, CHNG joined all the NIC events.
Well Rewarding
In the recent events, more than 14,000 people were attracted by each NIC. The organizers have arranged technical seminars, nuclear summit forums, on-site and off-site meetings with Chinese customers so as to help the exhibitors to make best of the unique opportunity of NIC and to promote their products and services.
The next NIC will be held from April 6th to 9th, 2016 at the China National Convention Center (CNCC). With its large area, convenient facilities and experienced organizers, NIC 2016 will be a great nuclear event that you should never miss!