Option 1 选择1 标准展位
Rental of shell scheme booth USD535/Per SQM (minimum 9 SQM)
最小申请面积9平方米,535美元/平方米/展期
A-ready-for-display package has been designed for exhibitors for a cost-effective means of participation. And a minimum unit is 9 square meters booth (multiple units are available).
The Standard Shell Scheme booth (per 9 square meters) will include: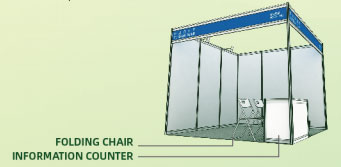 Fascia board with exhibitor's company name in English and Chinese
Partition walls on three sides
Booth area fully carpeted
One information counter
Two folding chairs
One waste basket
Two spotlights
One power socket

Option 2 选择2 光地展位
Rental of raw space USD484/Per SQM (minimum 36 SQM)
最小申请面积36平方米,484美元/平方米/展期
If this option is selected, the exhibitors should be responsible for setting up the booths at their own expenses.
Option 3 选择3 展示墙
Rental of show board USD500/board (1m×2.5m)
最小申请面积2.5平方米(宽1米,高2.5米)500美元/幅/展期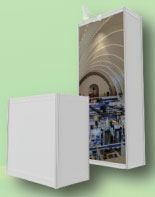 This show board is provided to those customers who unable to reach the site, Please design and posters according to the size(0.95m×2.33m). Our staff will post posters in order and distribute promotional materials.
本展示墙提供给无法前来现场参展的国际商家。请根据尺寸(宽0.5米,高2.33米)设计制作招贴海报,并将海报及宣传材料寄给我们,我们的工作人员将负责按序张贴海报并在展会现场发放宣传资料。