Option 1 选择1 标准展位
Rental of shell scheme booth USD535/Per SQM (minimum 9 SQM)
最小申请面积9平方米,535美元/平方米/展期
A-ready-for-display package has been designed for exhibitors for a cost-effective means of participation. And a minimum unit is 9 square meters booth (multiple units are available).
The Standard Shell Scheme booth (per 9 square meters) will include: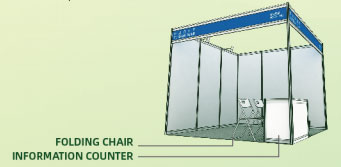 Fascia board with exhibitor's company name in English and Chinese
Partition walls on three sides
Booth area fully carpeted
One information counter
Two folding chairs
One waste basket
Two spotlights
One power socket

Option 2 选择2 光地展位
Rental of raw space USD484/Per SQM (minimum 36 SQM)
最小申请面积36平方米,484美元/平方米/展期
If this option is selected, the exhibitors should be responsible for setting up the booths at their own expenses.
Option 3 选择3 展示墙
Rental of showcase wall USD500/ board(s) (1m×2.5m)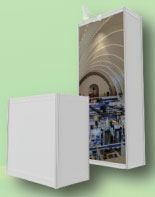 最小申请面积2.5平方米(宽1米,高2.5米) 500美元/面/展期
This showcase wall is provided to those who cannot come to Beijing to participate in the exhibition from abroad due to the need for prevention and control of COVID-19. Please provide wall posters with appropriate size(0.95m×2.33m). The organizer is responsible for posting them in order and the staff will distribute promotional materials on their behalf.
本展示墙提供给因心冠疫情防空需要无法前来现场参展的境外国际展商,请根据尺寸(宽0.95米,高2.33米)设计制作招贴海报,并将海报及宣传资料寄与我们,我们的工作人员将负责按序张贴海报并在展会现场向观众发放宣传资料。
* 2021年11月30日(含)之前签订参展合同,并完成支付50%首付的参展企业,可享受 2%优惠。
展会报名截止日期: 2022年1月10日
* Exhibitors that sign exhibition contracts before November 31, 2021 (included) and complete the 50%
of the full amount deposit can enjoy a 2% discount.
Booking Deadline: January 10, 2022